K-pop has gained widespread popularity, largely thanks to the international success of BTS. However, if you're eager to explore other K-pop boy groups, you're in for a treat. This list is tailor-made for you, featuring various popular bands from the past, present and even new rising stars in the genre.
Get ready to immerse yourself in great music and prepare your ears for an exciting journey!
Most Popular Male Kpop Groups
1. BTS
Members: 7 active members: Jin, Suga, J-Hope, RM, Jimin, V and Jungkook.
Debut: June 13, 2013
Current status: On hiatus
Company: Big Hit Entertainment
What can we say about BTS? We start with the fact that they are the most successful K-pop group. They dominate the international music charts thanks to their new singles in English, "Butter" and "Permission to Dance," which have gone viral on the internet.
But not everything was always like this; BTS has humble origins since they come from a small company. Big Hit Entertainment was his home from its inception. After their debut, they began experimenting with their sound, focusing on a tricky image that evoked rap and hip-hop, which was huge in Korea then.
BTS has always had a home production line, since it is RM, the main rapper, who composes the lyrics of their songs. But he is not the only one in charge of the lyrics of his songs, the rappers Suga and J-Hope also collaborate on said composition.
They have gained renown for their original productions and also for the meaning behind their songs. These have become a safe place and away from the social expectations that are demanded of young people. In addition, they have lyrics loaded with social criticism and introspection, something difficult, but striking, considering that they come from a conservative country.
The band is currently on hiatus as Jin, the oldest member, is serving his military service. However, they will release a new album to celebrate their 2023 anniversary.
2. SEVENTEEN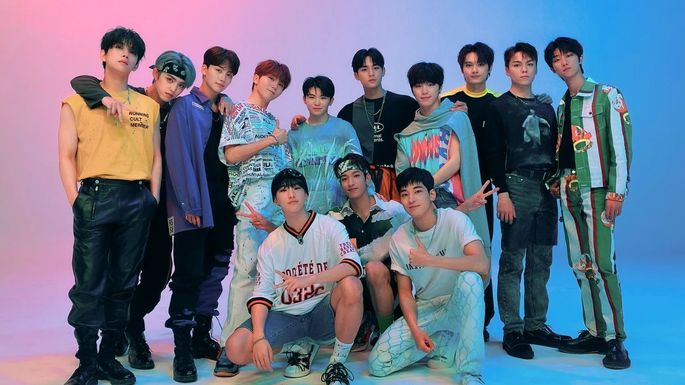 Members: 13 active members: S.Coups, Jeonghan, Joshua, Jun, Hoshi, Wonwoo, The8, Mingyu, Woozi, DK, Seungkwan, Vernon, Dino
Debut: May 26, 2015
Current Status: Active
Company: Pledis Entertainment
SEVENTEEN is a 13-member group under the Pledis Entertainment company. They are considered one of the industry's few "self-produced" groups. That means members are actively involved in the creative process behind their brand. This includes their choreography, lyrics, songwriting, live performances, and various show concepts.
When Seventeen was created, the company's owner wanted a band to exist capable of producing its music. For this, he chose a member, Woozi, and put him to work directly with one of the company's producers, Bumzu. This gives the group the freedom to release songs whenever they want and to pursue solo projects with different genres and approaches.
On the other hand, the band has had three official subunits since its debut: hip-hop group, vocal group, and performance group. Hip-hop focuses on self-composed tracks and consists of four members, S.Coups, Mingyu, Wonwoo, and Vernon. The vocal group focuses on power ballads and romance and has five members: Woozi, Jeonghan, Joshua, DK, and Seungkwan. Finally, the performance group focuses on music and presentation, including choreography, and its members are Hoshi, Jun, The8, and Dino.
They recently made a triumphant comeback with one of their sub-units, BSS, consisting of Seungkwan, DK, and Hoshi. Fighting! has been very popular with Korean and international audiences, and the reception has been very positive.
Seventeen is a group that, little by little, is rising in popularity and popularity. His latest songs and albums have broken international sales records, all thanks to his work ethic and the level of his presentations and songs.
3. NCT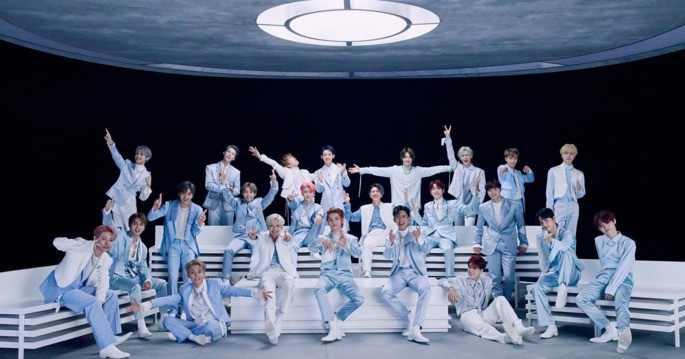 Members: 20
Debut: April 9, 2016
Current status: Active
Company: SM Entertainment
NCT must be the definition of "supergroup" par excellence. SM Entertainment formed the band thinking about the possibility of having infinite members. According to Lee Soo-man, the company owner, his intention with NCT is to create a group focusing on cultural content, debuting different groups in different countries.
The group has multiple subunits. NCT U, the first to debut and which rotates its members depending on who the new song suits best, NCT127, a Seoul-based band. NCT Dream , where the younger ones shine, WayV, the unit for the Chinese members. And NCT Tokyo for the Japanese members.
The members that make up this band are recognized because they were part of SM Rookies. This was a group of young people who were in the training stage with the company. Thanks to SM Rookies, multiple NCT members received attention from fans and the media, participating in various solo or collaborative projects.
After WayV's debut, the SM Rookies project was disbanded completely. Lucas was kicked out of the WayV and NCT projects after going on hiatus for two years due to a scandal. He will work as a solo artist in the future.
4. EXO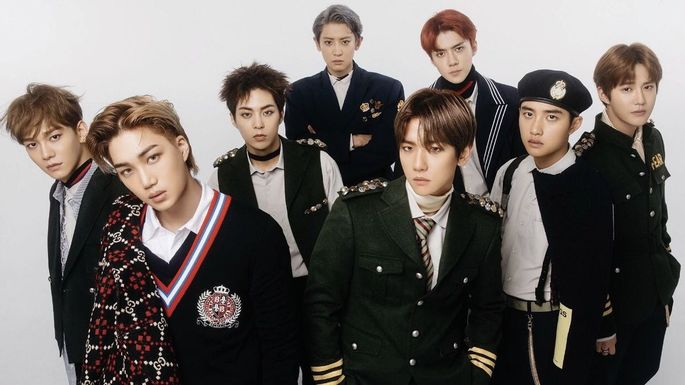 Members: 8 active members: Xiumin, Suho, Baekhyun, Chen, Chanyeol, DO, Kai, and Sehun. Lay is out of the company but doesn't seem to have left EXO.
Debut: April 8, 2012
Current Status: Active
Company: SM Entertainment
EXO is a group conceived by Lee Soo-man, the creator of SM Entertainment. Their original concept was that of a group with two sides, one dedicated to Korean-language topics and the other focused on Mandarin-language topics. Previously, the group had 12 members, and the EXO-M sub-unit was active, but three Chinese members left the group, and the sub-unit was disbanded.
They are a very important band internationally and in Korea. In 2012, during the rise of Korean immersion in America, known as the Hallyu Wave, they enjoyed unprecedented success with their single "Growl." In addition, they are recognized for their vocal ability, having debuted with an R&B approach. They also emphasized power ballads on their albums by their lead vocalists, DO, Chen, and Baekhyun.
EXO is promoting separate sub-units and soloists, as several members are serving their mandatory Korean military service. Even though they were initially criticized for not getting involved in creating their songs, since 2015, they have been writing their lyrics. Recently, member Lay announced that he would be leaving SM Entertainment but did not mention any plans to leave EXO. Kai is currently serving his military service.
Chen, Xiumin, and Baekhyun have announced that they will be suing SM to get out of their recently renewed contract for unfair pay terms and other issues. The details are scarce and difficult to understand, but the company wanted to calm fans by saying that EXO's activities would not stop and the comeback, scheduled for summer 2023, is still on.
5. BIGBANG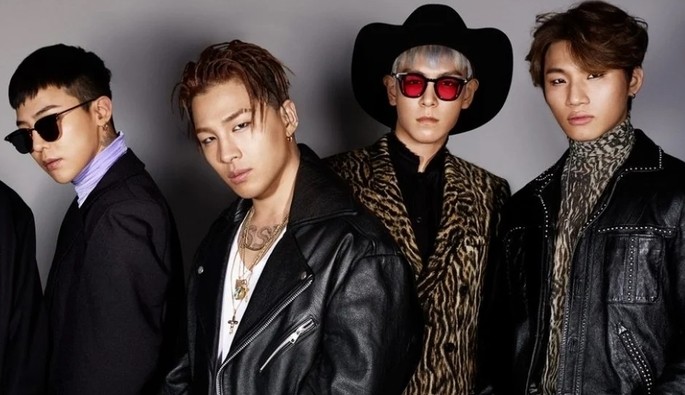 Members: 3 active members: G-Dragon, Taeyang, Daesung
Debut: August 19, 2006
Current status: On hiatus
Company: YG Entertainment
BIGBANG is recognized as the king of K-pop. They are a band formed by YG Entertainment with four members currently. BIGBANG is the band that helped spread the recognition of the "Korean wave" internationally and is one of the most influential music acts in the industry.
The band started as a dual concept, with members Taeyang and G-Dragon as the prominent members. However, the company's owner soon decided to include more rap elements, making them include TOP in the lineup. The last two members to join were Daesung and Seungri. The latter would retire from the entertainment industry in 2019.
BIGBANG is a band that has gained international recognition for its individuality. Their ability to blend hip-hop sounds with pop, dance music, and R&B also sets them apart from many acts. Their first songs were focused entirely on the urban and hip-hop element, but their single "Lies", which mixed pop music with those elements, was the one that catapulted them to fame.
In addition, they are recognized for controlling their career in many aspects, getting involved from the production to the lyrics of their songs, which sets them apart from many K-pop acts. G-Dragon is the member who has been most involved in the band's creative process and is the one who has written and produced almost all of their discography, which is over ten years old.
Only one member of BIGBANG remains under YG Entertainment, with Daesung and TOP leaving the company in recent years along with Taeyang, which changed The Black Label, a YG subsidiary. However, they maintain that BIGBANG has not disbanded. However, TOP confirmed on his social networks that he would officially leave Bana, but the other members have not commented.
6. GOT7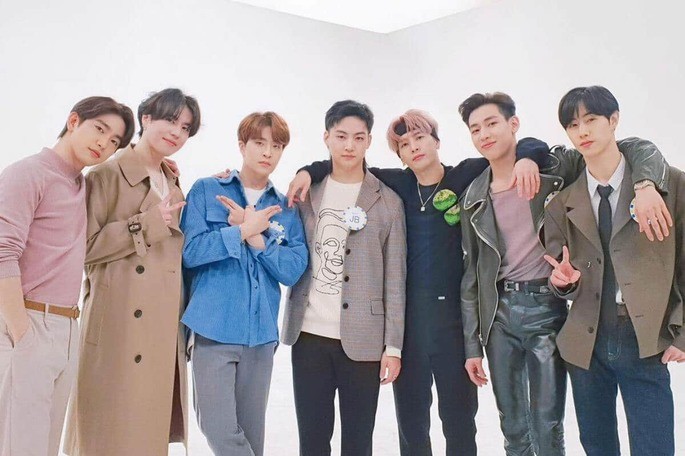 Members: 7 members: JB, Mark, Jinyoung, Jackson, Youngjae, BamBam, and Yugyeom
Debut: January 16, 2014
Current status: Active
Company: JYP Entertainment
GOT7 was a seven-member boy band under the JYP Entertainment company. They were one of the most successful boy bands on their record label, gaining recognition primarily for their live performances, including martial arts and urban dance elements.
By the time of their debut, the band drew comparisons with a previous group, 2 PM, from the same company. This was because their performances also included martial arts tricks and b-boy dancing styles. After their debut, the Korean public dubbed them as the heirs of 2 PM, and they were warmly received. But his international success would come a little later.
In 2015, they released their single "Just Right," a song that landed them at number 3 on the international Billboard charts. This was the success that would catapult them to world stardom. Thanks to Just Right's lyrics about embracing imperfections, the group gained a young following inspired by the positive message.
Although the group managed to break through in the international market, the company that led them did not focus enough on them. After years of poor and scant promotions, they left the company in 2021. But they have reiterated that despite not being under the same company, GOT7 would not disband. They already had a comeback under their different companies, so GOT7 continues and will continue to be active.
7. SHINee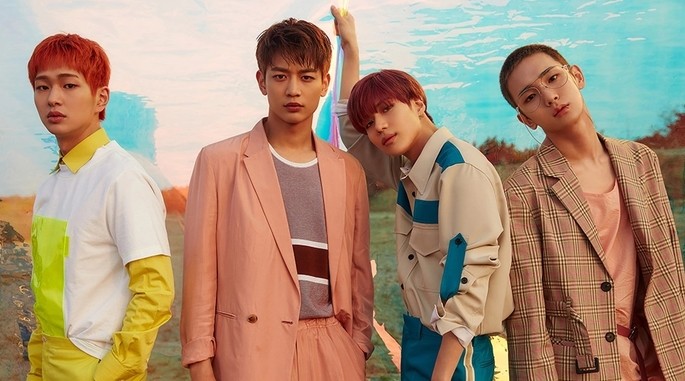 Members: 4 active members: Onew, Key, Minho, and Taemin
Debut: May 22, 2008
Current status: Active
Company: SM Entertainment
SHINee's impact in their home country has earned them the name of the princes of K-pop. The group was conceived with five members, but lead vocalist Jonghyun died in December 2017. The band's main focus was on R&B-like vocal performances, but they have significantly evolved their sound over the years.
The creation of SHINee was inspired by the idea of ​​bringing out a group that was avant-garde in all aspects, including music, dance, and fashion. Indeed, her dress style became so imitated in Korea that the media dubbed it "Shinee fashion." The youthful charm of the members and the graceful way they changed their sound as they matured make them one of the most easily accessible groups for fans.
The group is considered one of the artists with the best vocal line in Korean pop, in addition to having complex choreography and a musical style that sets them apart from other acts. All the members have succeeded as soloists, especially Taemin, the youngest.
SHINee often experiments with their sound, and at every premiere, they can be heard trying out a new genre. Previously, Jonghyun, the member who passed away, was also in charge of the composition and lyrics of several of the band's songs.
8. Monsta X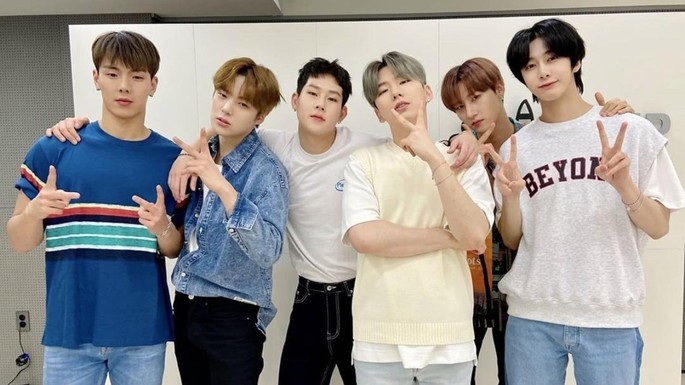 Members: 6 active members: Shownu, Minhyuk, Kihyun, Hyungwon, Joohoney, and IM
Debut: May 14, 2015
Current status: Active
Company: Starship Entertainment
Monsta X was formed on a survival show called No. Mercy. In the contest, 13 contestants competed to win a spot within the band, and seven members were chosen. Wonho, a former band member, had to leave it for personal reasons.
Monsta X's style during their debut was aggressive, intense, and even "loud." They mix elements of hip-hop with EDM and pop, and within their lineup, they have a composer, the rapper IM. Even though many of their main songs have this characteristic sound, their albums have ballads that show the vocal range of the group singers.
Although they were initially considered a small group, in the last three years, they have gained enough international recognition to collaborate with American acts. Minhyuk announced that he was due to serve in the military so we won't see him in future group activities.
With its raucous and flashy style, the group is an exciting alternative for those looking for something a little more similar to American hip-hop while mixing in plenty of strong EDM instrumentals.
9. Stray Kids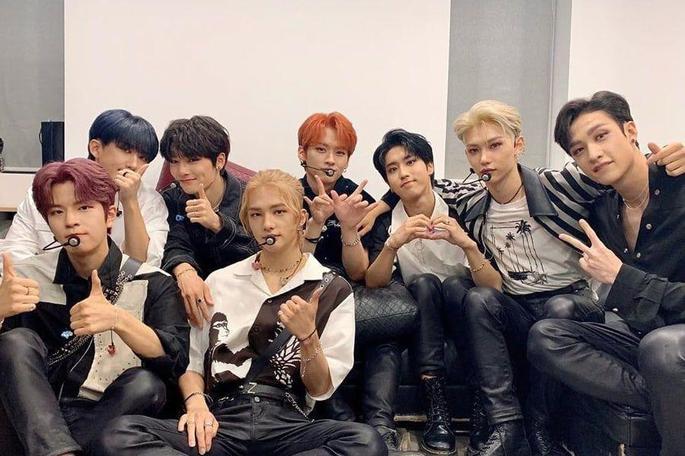 Members: 8 Active Members: Bangchan, Leeknow, Changbin, Hyunjin, Han, Felix, Seungmin, IN
Debut: March 25, 2018
Current Status: Active
Company: JYP Entertainment
Stray Kids is another group that was formed thanks to a survival program. In this case, it was called Stray Kids, and it gained immediate popularity by releasing its first track, Hellevator, even without debuting. The Stray Kids Boys are among the most striking bands of the renowned fourth generation of K-pop.
The sound of the guys from Stray Kids has a lot of EDM influence. Many of his choruses are instrumental, and the songs focus on rap and hip-hop. This sound, which could also be aggressive, attracts or drives away fans. The exciting thing is that they don't usually keep a concept for too long, changing their sound and image with each comeback.
Members Bang Chan, Changbin, and Han are members of a songwriting trio called 3Racha, the group's official subunit. Thanks to this, we know that the three have participated in the lyrics and composition of various group songs, and it has been commented that Bang Chan has also participated in the musical arrangements.
Despite not being in the industry very long, they are an unstoppable force in K-pop and have a fairly respectable international acceptance.
10. Super Junior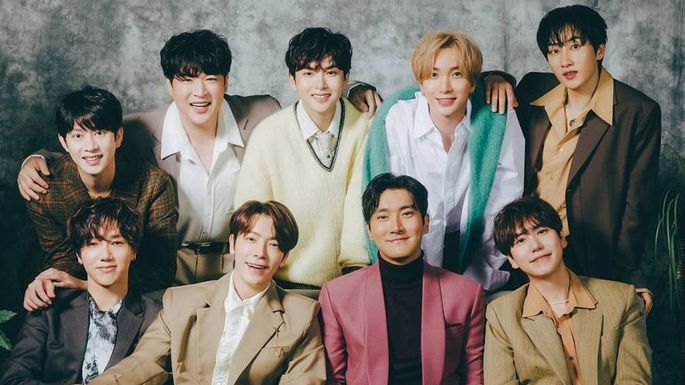 Members: 9 Active members: Leeteuk, Kim Hee-chul, Yesung, Shindong, Eunhyuk, Donghae, Siwon, Ryeowook, Kihyun
Debut: November 6, 2005
Current status: Active
Company: SM Entertainment
Super Junior is another of the most famous groups of the second generation of K-pop. Recognized for their contribution to internationalizing kpop, since 2009, their songs have become a milestone for fans. Many members have successful careers as presenters and actors outside of their work within the band.
In principle, the formation of Super Junior had a concept similar to that of EXO. Lee Soo-man wanted a group with Chinese and Korean members to promote in both countries. Curiously, the band's sound has evolved a lot from its beginnings.
At the beginning of Super Junior's career, their sound imitated the visual K, which was popular in Japan. But when they turned to electropop, they found the formula for success. "Sorry Sorry," is still heard as an iconic song by the band, and other generations often cover it to honor their legacy.
However, pigeonholing Super Junior into a single musical genre would be wrong since they have experimented with pop, rock, R&B, electropop, synthpop, Latin pop, and hip hop sounds, among many others. For this and many other reasons, the group will remain indisputable in kpop history.
11. TOMORROW, X TOGETHER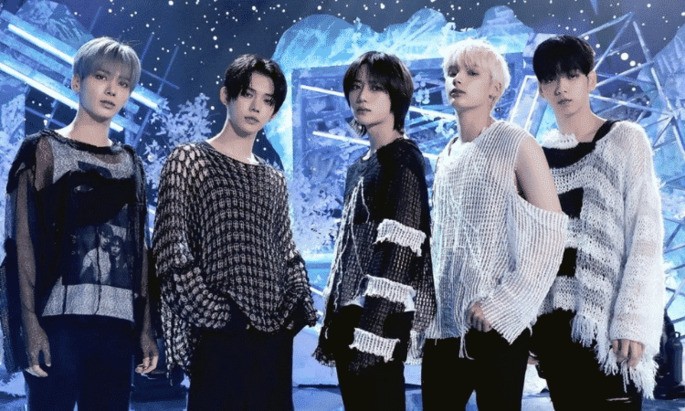 Members: 5 active members: Yeonjun, Soobin, Beomgyu, Taehyun, Huening Kai
Debut: March 4, 2019
Current status: Active
Company: Big Hit Entertainment
This band, known as TXT, is the second male group under Big Hit Entertainment, BTS's company. It is a relatively new group, so it still does not have a defined style for its sound. During its debut, the single "Crown" was the fastest to enter the international charts, demonstrating Big Hit's strength since BTS's success.
After their first single was such a huge success, it didn't take long for them to change their concept to something more introspective. While Crown had hints of the flower boy concept, the following songs had a lot of drama in their lyrics. Another factor that makes them attractive to their fans is the story they want to tell in their videos and songs. Very similar to what BTS has done, TXT has been spinning a story through its latest singles.
Like their predecessors, the TXT members are learning to compose and write lyrics. The members Huening Kai and Beomgyu are the most interested in producing their songs and are studying to reach the level of their fellow companies.
12. ATEEZ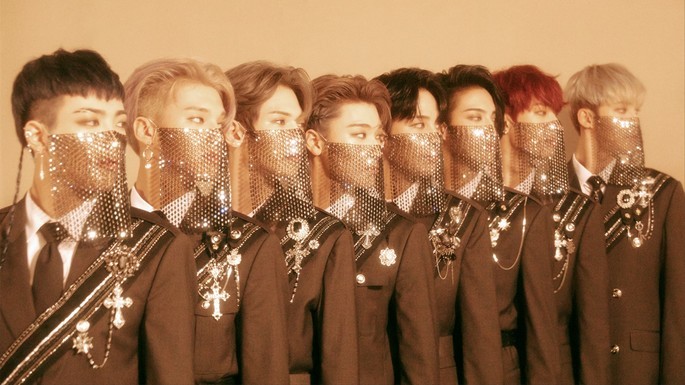 Members: 8 active members: Seonghwa, Hoongjoong, Yunho, Yeosang, San, Mingi, Wooyoung, Jongho
Debut: October 24, 2018
Current status: Active
Company: KQ Produce
Another group belonging to the epic fourth generation of kpop, Ateez, is considered a rookie group with too much potential. KQ Produce hadn't debuted any other boy group since Block B, and the first Ateez member to join the company sent them a mixtape to audition, as he admired Block B.
Eventually, the company accepted more young people to train, and a conceptual group was created: KQ Fellaz. This group would show the eight members of Ateez together for the first time, and the company held a couple of shows dedicated to showcasing the growth and training of the members. During this period, it was decided to rename the Ateez group.
The guys from Ateez have worked with the artist EDEN for the production of their records. It is not yet known if they will devote themselves to producing their lyrics and songs themselves in the future. The sound of their music can also be described as aggressive and powerful, but at times, they use tropical sounds evoking summer.
13. WINNER
Members: 4 active members: Mino, Yoon, Jinu, Hoon
Debut: August 15, 2014
Current status: Active
Company: YG Entertainment
WINNER was formed on a survival show conducted by YG Entertainment. The WIN: WHO IS NEXT? , was responsible for creating BIGBANG, for which the company owner decided to recreate the same formula for his following male groups. On the show where Winner was formed, they also had the chance to meet members of iKON, the next group to debut from YG.
Winner's debut was relatively daring for his company. YG has always been known for a sound inspired by rap and hip-hop, but Winner debuted with a power ballad to make their mark. Interestingly, this formula was correct, as they gained almost immediately popularity. But after one of the original five members decided to leave the band, the group revamped its image and sound.
With the single Really, the group focused on a more tropical concept and had the production of one of the members and the expert hands of the company's producers. This single would catapult them to international fame, as the easy-to-learn choreography and accessible sound was a hit with Western audiences.
14. iKON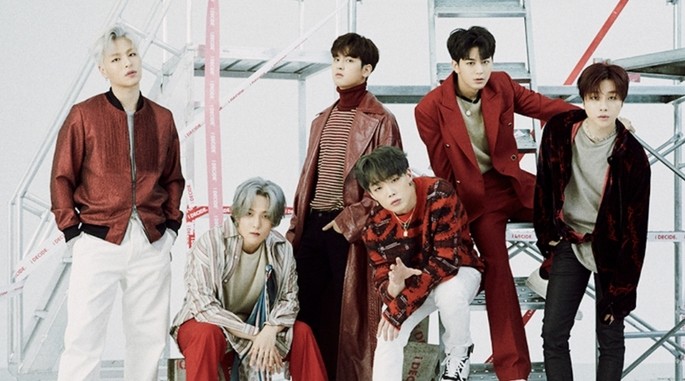 Members: 6 active members: Jay, Song, Bobby, DK, Ju-ne, Chan
Debut: September 15, 2015
Current status: Active
Company: 143 Entertainment
Some iKON members participated in the WIN: WHO IS NEXT? from YG Entertainment. After these trainees were within the company for a long time, Yang Hyun Suk announced a new program called Mix & Match, where he would search for the remaining members to form a group of seven.
iKON is one of those cases where their early sound attracted some fans, but it wasn't until they found something easier to digest that they achieved undisputed fame.
His first songs were very focused on hip-hop and rap, which is usually his company's brand. Although it was typical, it seemed hackneyed by the time they were doing it. Things changed for the better when the "Love Scenario" came around. The song became so popular that it was banned from preschools because the kids wouldn't stop singing it.
BI, the group's songwriter, had to drop out due to a controversy. iKON's music has evolved positively over the years, and its most up-tempo songs no longer have those aggressive traits that used to characterize them. They are preparing for a world tour to visit countries in Europe, Latin America, and the American continent. They left YG Entertainment in 2023, and all the members signed under the company 143 Entertainment.
15. PENTAGON
Members: 9 active members: Hongseok, Shinwon, Yeo One, Yanan, Yuto, Kino, Wooseok, Jinho, HUI
Debut: October 10, 2016
Current status: Active
Company: CUBE Entertainment
The group became known thanks to the Pentagon Maker program, a reality show that would present the new CUBE Entertainment group members. Initially, the show eliminated three members: Dawn, Shinwon, and Yanan, but it was ultimately determined that the group would have ten members.
Pentagon also has an exciting lineup of young people learning to compose and write song lyrics. The main rappers, Wooseok and Yuto, write their rap lines. But Hui and E'Dawn were in charge of composing the main themes for the group. Hui remained the group's music manager after Dawn left the lineup and the company.
2018 they had their first international break with the single "Shine." With a simple but catchy melody, the song went viral for these elements and its choreography, heavily inspired by American fashion. They are currently preparing for a triumphant comeback, as Hui has been discharged from the military and they are back to 9 active members.
16. Day6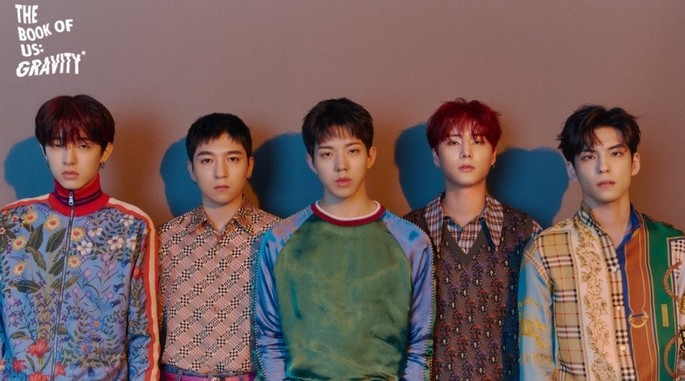 Members: 4 active members: SungJin, Young K, Wonpil, Dowoon
Debut: September 7, 2015
Current status: Active
Company: JYP Entertainment
Day6 is one of the few rock bands that exist within the world of kpop. This band is particularly distinguished because all its members are involved in their songs' composition and writing process. Originally it had six members, but one of the keyboardists left the lineup due to personal problems.
Day 6's creation dates back to the WIN: Who's Next? , as they participated along with seven other trainees who would become GOT7. However, the company's owner that managed them had the project of creating an acoustic band.
Day 6 had no mainstream promotions to show off their skills. Instead of appearing on typical Korean TV shows, the boys did live street performances called busking.
In addition, they had an ambitious project to make themselves known, Every Day6, where they would add 25 songs to their discography. Thanks to the fact that all the band members are involved in the production, the sound of the band does not stagnate but constantly evolves. They feature heavy rock tracks, sad ballads, and soft songs that provoke chanting.
17. TVXQ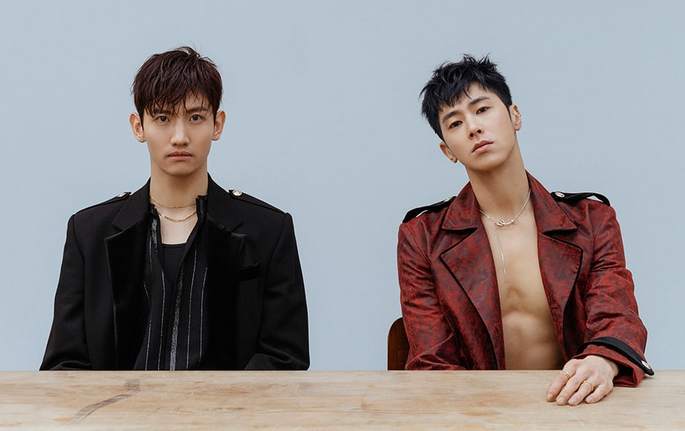 Members: 2 active members: Changmin, Yunho
Debut: December 26, 2003
Current status: Active
Company: SM Entertainment
If we talk about mythical and important boy groups, we cannot forget the history of TVXQ. Also known as DBSK, the group initially had five members, but their history was not always one of success and opulence. Despite being a band within the biggest kpop company, it was thanks to them that the industry's dark side was revealed.
TVXQ were the undisputed kings of their generation. Their image was accessible, their themes catchy, and they enjoyed incredible success in Korea and Japan. His song "Mirotic" remains a milestone in the genre's history. But the reality behind his success was a bit darker.
After 6 years, three former members, Jaejoong, Yoochun, and Junsu, started a legal battle against SM Entertainment. The reasons: an excessively long 13-year slave contract, unfair work hours that on many occasions were not even discussed, and finally, the monetary benefits were being distributed unfairly.
This started discussing the so-called "slave contracts" that the kpop industry established before the 2000s. Eventually, the two sides reached an agreement not to interfere with each other, and the contracts of the three members who sued were canceled. The other two remained on the sidelines of the issue and continued their promotions after a reasonable time.
Despite these problems, the legacy this band has left behind is still felt in Korea. And what's more, they are known to be one of Japan's most successful kpop groups. There is no doubt that TVXQ is part of kpop royalty.
18. ONEUS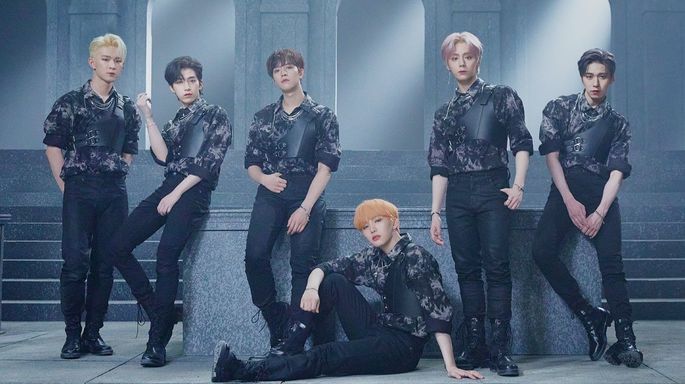 Members: 6 active members: Ravn, Seoho, Leedo, Keonhee, Hwanwoong, Xion
Debut: January 9, 2019
Current status: Active
Company: RBW
RBW, a music company that is responsible for the success of the girl group Mamamoo, debuted a six-member group in 2019. Many enjoyed moderate recognition, having participated in survival shows like Mix Nine and Produce 101.
At first, they carried the name of RBW Boyz, but it was changed to ONEUS. After an explosive debut with the song "Valkyrie", they gained media attention and established themselves as a very interesting act for new kpop fans.
The group and their sound have been widely compared to a male version of Blackpink. They have a powerful vocal line with a very strong rap section, and the style of their songs and melodies has brought these comparisons to bear. Within the company, they have collaborated with their colleague ONEWE, an alternative rock band.
19. TREASURE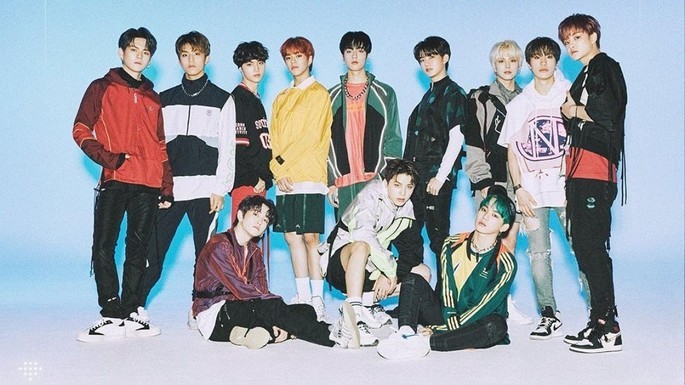 Integrantes: 12 miembros activos: Hyunsuk, Jihoon, Yoshi, Junkyu, Mashihho, Jae Hyuk, Asahi, Yedam, Doyoung, Haruto, Jeongwoo, Junghwan Debut: 07
de agosto del 2020
Estado actual: Activos
Empresa: YG Entertainment
TREASURE is here to take 2020 by storm. They were the most commercially successful debut of the year and won several awards that crowned them as rookies of the year. His debut project included three singles that would be part of his first album with 10 songs.
The group follows the formula of many fourth-generation male acts, with a heavy focus on electronic music and generating choruses that do not feature a vocal line but are carried by melody.
They are currently trying to connect with the Japanese market. They brought out a theme song for the Black Clover anime. The album they released for Japan has all the original songs from the first album but in the Japanese language. His most recent single is Hello.
20. ASTRO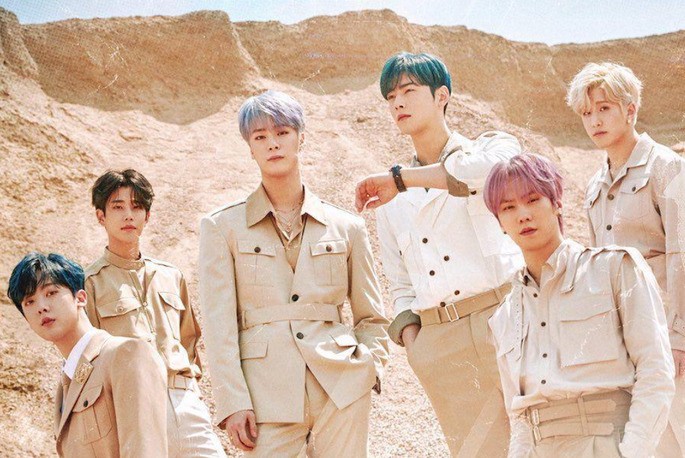 Members: 4 active members: MJ, JinJin, Cha Eun Woo, Sanha
Debut: February 23, 2016
Current status: On hiatus
Company: Fantagio Entertainment
ASTRO is one of those bands that deserve more success than they get. They come from a small company, and despite having international recognition thanks to their debut, popularity eludes them relatively.
The ASTRO boys were selected from a talent development program called Fantagio iTeen. Later, they had their reality show called Astro OK! Ready, which gave members visibility. They have visited the United States, Canada, Japan, and Thailand and participated in the KCON lineup, the largest Korean culture convention.
Cha Eun Woo, one of the band members, has been trying to expand his horizons into acting and is widely recognized as one of the most likable youthful faces in kpop. In addition, the members have participated in producing their latest songs, which they had not experienced before.
Moonbin, unfortunately, passed away in 2023 during the promotion of a subunit created with his partner Sanha. It is currently unknown if the group will remain as a foursome or disband after the young member's tragic death.
21. The Boyz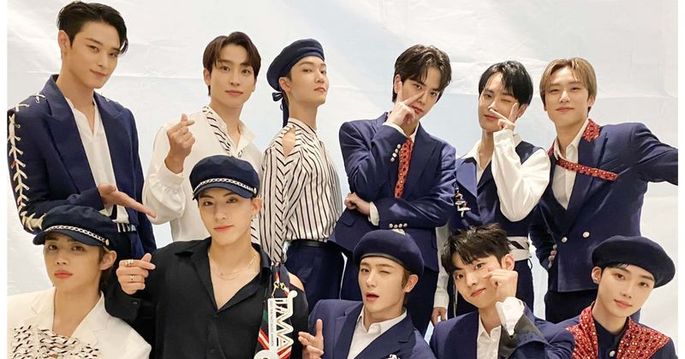 Members: 11 Active members: Sangyeon, Jacob, Younghoon, Hyunjae, Juyeon, Kevin, New, Q, Juhak Nyeon, Sunwoo, Eric
Debut: December 6, 2017
Current status: Active
Company: IST Entertainment
Originally called Cre.kerz, the company officially announced The Boyz with the theme I'm Your Boy. They had 12 members, but Hwall left at the end of 2019.
The boys achieved considerable fame in Korea and won various awards, such as Rookie of the Year. They participated in the Kingdom program, which expanded their fame internationally and locally. There they competed with artists like Pentagon. Winners were crowned on the show.
In 2021 they signed with Sony Music Japan to promote in Japan, and at the end of the year, they released a single to commemorate their fourth anniversary, titled Candles. They are currently promoting their single Roar.
22. Enhypen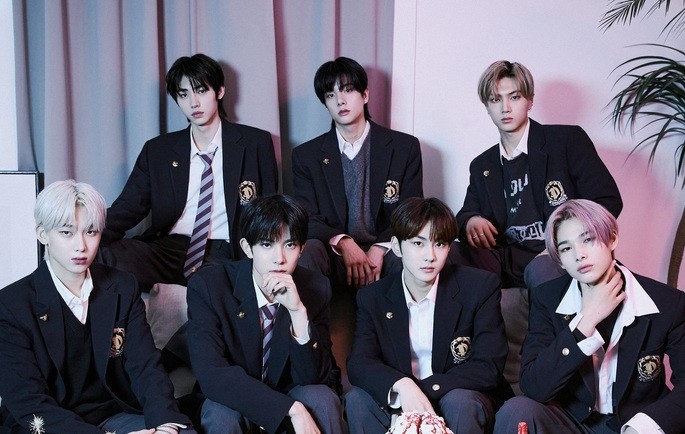 Members: 7 active members: Heeseung, Jay, Jake, Sunghoon, Sunoo, Jungwon, Ni-Ki
Debut: November 30, 2020
Current status: Active
Company: BELIFT LAB
BELIFT and HYBE Labels (formerly Big Hit Entertainment) worked together for a global audition to find boys for a new group. They sought rappers, singers, dancers, models, and actors. In June 2020, they began airing the I-LAND, a competition reality show to debut a new boy group. The winners of the said contest would be the members of ENHYPEN.
They debuted with Given-Taken, but would not achieve international fame until Drunk-Dazed, a high-energy party track, showcased the boys' charisma. KBS censored the music video due to scenes showing alcohol and drugs.
His most recent theme, Blessed-Cursed and Polaroid Love, have enjoyed indisputable success—especially the second theme, which has gone viral on the TikTok platform.
23. BTOB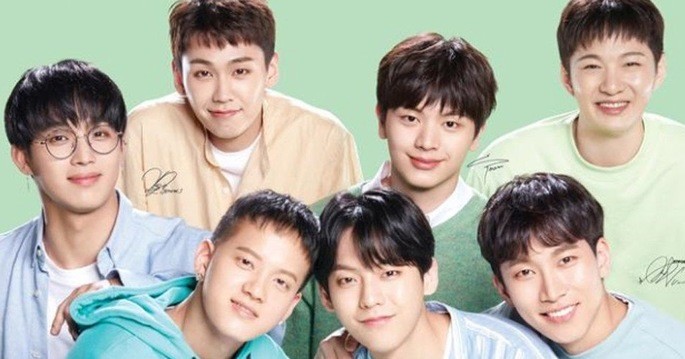 Members: 6 active members: Eunkwang, Minhyuk, Changusb, Peniel, Hyunsik, Sungjae
Debut: March 21, 2012
Current status: Active
Company: Cube Entertainment
His name means "Born to Beat." Cube Entertainment introduced them on March 21 with the tracks Insane and Imagine. Thus, although their first songs were more upbeat, BTOB cemented itself as one of the great kpop ballad bands.
Many of the members participate in the composition and writing of the songs, even collaborating with other company artists, such as the Pentagon. They have the BtoB Blue sub-group, where only the leading vocalists of the band participate. They have two songs, Stand By Me and When it rains. This second theme is composed by Hyunsik.
At the end of 2020, Ilhoon decided to leave the group permanently. They've recently had something of a resurgence in popularity, thanks in part to their comeback, the Be Together EP. On the other hand, the member Sungjae has enormous popularity as an actor, having participated in one of the most crucial series in the history of Korean dramas, Goblin.
24. Eric Nam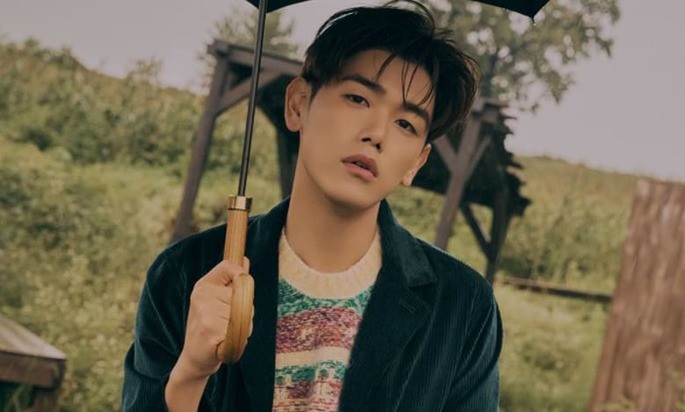 Debut Soloist
: January 23, 2013
Current Status: Active
Company: Stone Music Entertainment
Eric Nam is a household name in Korea's ballad and solo scene. We added him to this list because it's impossible to escape his songs on international radio. He is a musician and composer who has played piano and cello since he was very young. He participated in a group called Namaste in 2012.
He has collaborated with artists such as Red Velvet member Wendy, and his musical career mixes Korean with English seamlessly, as he was raised in Atlanta, Georgia, USA. He is well known as an MC and a reporter, as he participated in the MBC Section TV show.
He is promoting his second English album, There and Back Again.
25. SF9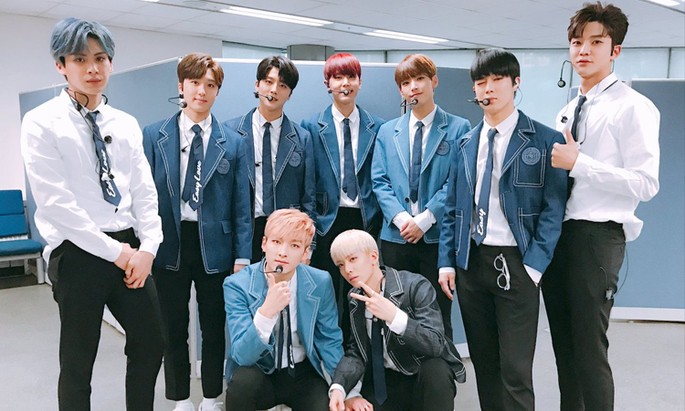 Members: 9 active members: Youngbin, Inseong, Jaeyoon, Dawon, Rowoon, Zuho, Taeyang, Hwiyoung, Chani
Debut: October 5, 2016
Current status: Active
Company: FNC Entertainment
The group initially debuted in Japan in December 2015. They had an 11-member lineup and participated together as NEOZ Dance in the FNC survival show dob (Dance or Band). In August of the following year, they were renamed as SF9, and their first song was called KO.
They returned with Fanfare, which took them to number six on the Gaon chart. His first EP, Burning Sensation, which came out in February 2017, debuted at number 6 on the Billboard International album charts. In that same year, they visited the United States both hand in hand with KCON and on an individual tour of Dallas, Seattle, and Boston. From there, they were fixed guests in the following KCON.
Currently, Jae Yoon is in the military. In January, they met with Rowoon, who was in the military, to release The Piece OF9 EP.
26. ODD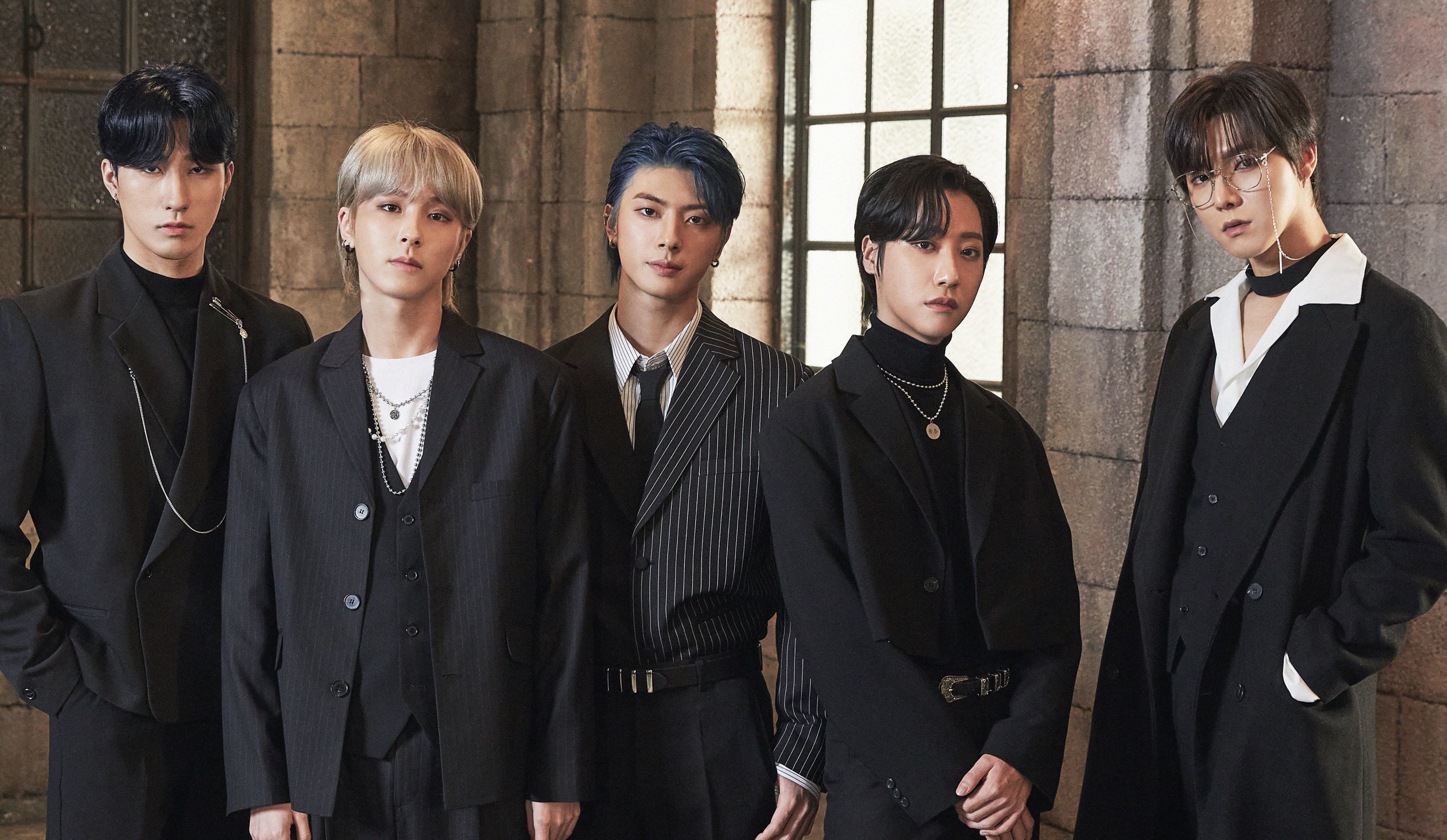 Members: 5 active members: Yong Hoon, Ha Rin, Kang Hyun, Dong Myeong, CyA
Debut: May 13, 2019
Current status: Active
Company: RBW
The ONEWE boys have a very particular story. At first, they had another name and debuted on The Show. However, when they participated in Produce 1O1 and The Unit, their current company noticed their talent and signed them to make an official debut with a project called "We Will Debut."
And if you are wondering if they have a connection to ONEUS, yes, indeed. They are "sister" bands, but for more than one reason: a member of ONEUS is the twin brother of one of the members of ONEWE. Curious.
This instrumental band has achieved moderate fame but is worth keeping on the radar. They are currently promoting their new mini-album in English, titled Gravity.
27. F.T. Island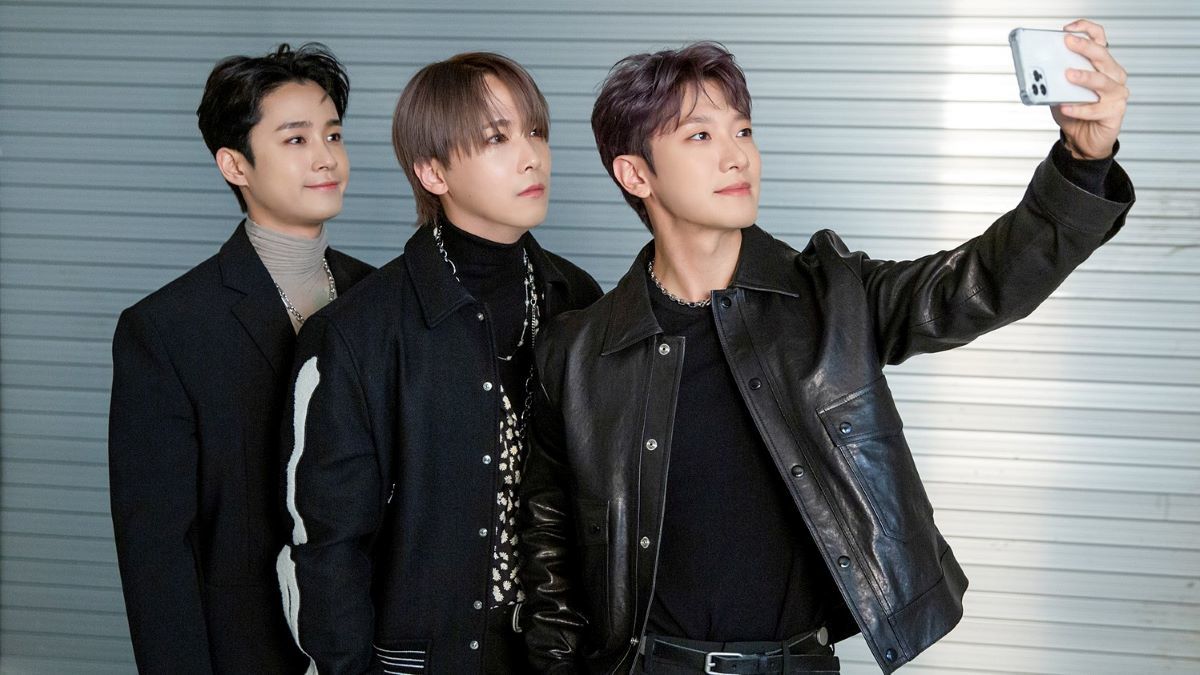 Members: 3 active members: Hong Gi, Jae Jin, and Min Hwan
Debut: June 07, 2007
Current status: Active
Company: FNC Entertainment
FT Island, also known as Five Treasure Island, debuted by releasing its first album, Cheerful Sensibility. The members formally introduced themselves to the public on a program called "Will you be my girlfriend?" on mnet. They have suffered from lineup changes throughout their active years and currently have three active members, but initially, there were five.
The band is known for their rock style and for playing live instruments at their concerts. In addition to their music career, the members of FT Island have also dabbled in acting and television. Hongki and Jaejin have participated in various Korean dramas and variety shows.
They have won several awards in their career, including the Mnet Asian Music Awards and the Seoul Music Awards. They have also toured worldwide, including countries like Japan, Taiwan, Hong Kong, and the United States. In addition, they are very popular in Japan.
28. Ninety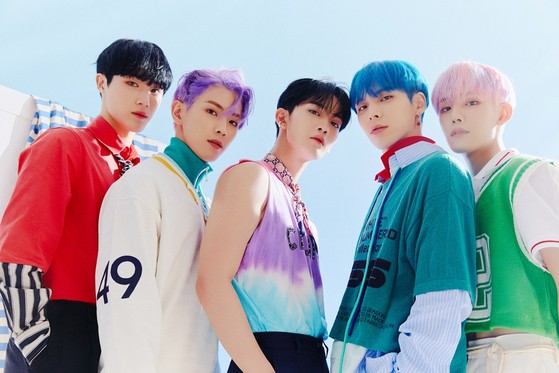 Members: 5 active members: Bae Jinyoung, Kim Seunghun, BX, Yonghee, and Hyunsuk
Debut: July 23, 2019
Current status: Active
Company: C9 Entertainment
CIX debuted in July 2019 with their first mini album, Hello, Stranger. Since then, they have released several albums and singles, including Numb, Movie Star, and Jungle. His musical style is a mix of pop, R&B, and hip-hop.
The CIX members have garnered attention for their singing and dancing talents, and have won various awards and nominations on Korean music shows. They have also toured in Asia and have performed at various music festivals.
In addition to their music career, the CIX members have also dabbled in acting. Bae Jinyoung has appeared in Korean dramas such as At Eighteen and I'm Not a Robot, while Kim Seunghun has been on the show The Unit.